Part 3 of the Wasteland reviews covers the new film from The Hughes Brothers, directors of Menace 2 Society and From Hell, The film in question is post-apocalypse thriller The Book Of Eli.
The Book Of Eli stars Denzel Washington as Eli, a wasteland wanderer who has been walking across Post-apocalyptic America for 30 years on a mission to bring a certain book to a sort of 'Safe Haven' where the words of the book are to be used to re-unite the world once again. On his journey he enters a small town presided over by none other than Gary Oldman, He's a kind of Godfather type man, He runs the town. After Eli gets into an altercation with Cheddar Bob from 8mile, He's granted an unwelcome audience with Oldman. Eli passes on Oldman's invitation to join his gang of marauders to carry on his journey. He's told to sleep on it and is given room and board as Oldman's guest. That night Mila Kunis knocks on his door, She's been sent there to satisfy his every need, Eli is not interested (idiot) and after Mila tells him that Oldman will hurt her blind mother (Jennifer Beals), decides to let her stay in the room. He lets her eat his food and notices his Book. She asks to look even though she can't read, but Eli refuses. Through the night they talk, Eli teaches her some things about how the world used to be, how Pray and other such things. The Next Morning Mila enters Oldman's room and sits next to her mother and says a prayer, Oldman over hears her and asks where she got that from, she tells him that Eli has a book and we find out that Oldman's Been searching for the same book. Eli and Oldman get into an altercation where a shoot-out erupts in the streets and Eli manages to get away although he's followed by Mila. Eli now has a companion on his journey, this is new for him as he's been alone on the road for nearly 30 years. They are chased by Oldman and his gang. His second in command (Outpost's Ray Stevenson) agrees to help if he can have Mila and Oldman agrees and they set off after Eli and Mila. The Two wanderers come across a house right in the middle of now-where and discover that the owners are actually cannibals who eat their guest and bury them in the back garden. Oldman and co find the house and another shoot out happens forcing Eli to hand over the book. He's Shot in the stomach and left to die. Mila is taken with by Stevenson and causes a road crash to which she's able to Escape. She goes back and can't find Eli. When she eventually finds him trudging along the road they decide to finish the journey and head to this 'Haven' which actually happens to be Alcatraz prison, we discover that the prison is a sort of warehouse for remnants of the past and are missing one book. The book that eli had. We Cut back to see Oldman as he gets the book open (as it was locked) and discovers that it is all in brail, he asks Jennifer Beals to read it but she lies and says she's forgotten how to read it.
Oldman's entire world has come crashing down as the book he's been searching for is useless as he can't read it.
Back on Alcatraz Eli Proceeds to tell the leader of the prison everything that was in the book word for word as he'd managed to memorize the entire thing over the last 30 odd years. We discover that Eli is actually Blind. After reciting everything in the book Eli dies and Mila takes up his mantal and head back home to presumably get her mother and spread the word of the book which if you haven't figured out yet is the Bible. Thus ending the film....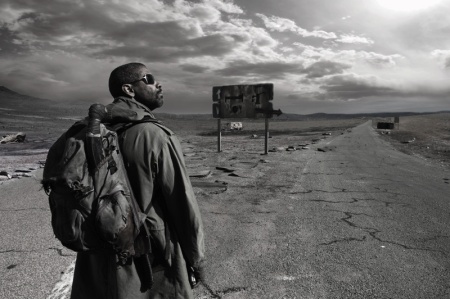 Ah right where to begin, Well for a start it's incredibly well directed by The Hughes Brothers, who have really matured as directors since there astonishingly powerful début Menace 2 Society, with only 4 feature length narrative films to there belt, Book Of Eli shows they're eye for detail as did their previous film From Hell. They've managed to make new Mexico look even more arid. The Cinematography by Don Burgess, who's credits include Blind Fury and Spider Man, Looks stunning, it's shot with a sort of washed out, sepia tinted lens and this shows much detail as it lights everything up. The Screenplay by Gary Whitta is pretty good although there is a little too religion shoved down our throats but this does not really make the film any less entertaining and the fact that Whitta used to write for UK games mag PC Gamer and has apparently been tapped to adapt the screenplay for the live action Akira movie is quite an achievement. It give Denzel a descent action hero role which he did quite well in Man On Fire and in Eli he plays the kind of role Patrick Swayze played in Steel Dawn, In fact the entire movie felt a lot like that film with a bit of Mad Max thrown in.
Mila Kunis, who after years of playing Jackie on That 70s Show has carved out a neat little Career for herself and Book of Eli is great project for her after the abysmal Max Payne film. It also helps that she is Astonishingly gorgeous and I hope she makes more movies as she is a very talented actress, check out Boot camp for more proof of this...
Oldman is Oldman, Insane, scene stealing and a lot like his character in Leon, he's a man driven by one thing....greed. As usual he give an outstanding perfomance and shows that us brits can kick the ass of most actors in hollywood, Previous Oscars have shown this.
The supporting cast are very good including Stevenson and Beals and there are 3 nice little roles for 3 established British actors, Michael Gambon and Francis De La Tour as the old timer Cannibals and Malcom McDowell as the leader of Alcatraz, plus a small supporting role for music legend Tom Waites as the owner of a shop.
The Book of Eli is an entertaining action drama that although has an emphasis on religion is a great piece of film making and fits in well with the post-apocalypse sub genre that seems to have had a resurgence of late. I highly recommend this film...